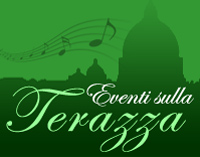 Events on the Terrace
Music & Taste with fabulous views over the Eternal City
We organize musical events for private groups, business groups and whoever might be interested in spending unforgettable moments on one of the most beautiful terraces in Rome. The spectacular panoramic view of this place, during sunset, will bestow an event with elegance and good taste, in which the music of great classical authors combines with the culinary specialties of our Chef, with the possibility of customizing the event according to the needs of the group.
Event available from May to October.
.
This event will take place only on condition of reaching the minimum number of 20 persons
if you are interested please send us your application and you will be sent the date of the event and related details.