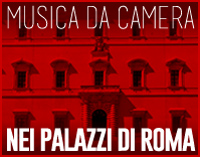 Chamber music in the palaces of Rome
Music, Art and the eternal beauty of the palaces Romans for a night dream
We organize concerts of chamber music for private groups in the splendid halls of Roman palaces, with cocktails and / or dinner on site, where you can also take a tour of the place before or after the concert. An event of elegance and good taste, allowing guests to combine listening to the classical music of the great authors with tastings of fine wines or cocktails and personalized dinners, always by our Chef.
Here are some of proposed musical concerts for piano solo; Harp duette and Violin or Flute and Harp; Soprano or Tenor with Piano; String Quartet; Madrigal choir; Guitar and Flute duette; etc.
Event held throught the year.
This event will take place only on condition of reaching the minimum number of 20 persons.
if you are interested please send us your application and you will be sent the date of the event and related details.